By Jimmie Kaska
Editor's note: This story was updated Wednesday at 3:30pm after news broke that the Green Bay Packers had signed guard Jahri Evans in free agency
It's no secret, the Packers have some holes to fill on both sides of the ball. How they pick in the first round could change the entire structure of not only their draft, but what teams do near the top of the second round, especially if they take a running back early. Below are scenarios in how the Packers' draft could unfold based on where they go with their first pick.
Needs on offense: A compliment running back to Ty Montgomery, preferably a big back with the ability to hit openings... depth at wide receiver, interior line
Needs on defense: A top-end cover corner... a versatile slot/nickel/hybrid type to move around... depth at pass rusher, linebacker. You could argue any defensive player drafted this year would be addressing a need, quite honestly.
Scenario 1: Green Bay takes a running back (Dalvin Cook or Joe Mixon) at #29
There is plenty of noise that the Packers are poised to do exactly this, to instantly upgrade one of two obvious holes in their starting 11. A top-flight back takes some pressure off of the passing game, and gives the Packers even more incentive to go double tight end more frequently.
Green Bay could then double down on offense, picking one of the higher-rated interior lineman in the next two or three rounds where they are projected to go after Forrest Lamp, and address defensive needs in a deep corner class around that pick. It takes some of the top-rated corners, safeties, and pass rushers off the table, as well as the top two or three offensive lineman, but the trade-off is that Green Bay is even more powerful on offense.
A Joe Mixon pick would spur some fan outrage, but outside of that, the Packers would be addressing a clear role on their high-powered offense, one that could help balance their attack.
Scenario Plausibility: HIGH. There's plenty of talk the past few days that the Packers are targeting a running back in the early rounds. Despite the depth at the position, the ability to add a game-changing back like Cook or Mixon could be too tempting to pass up.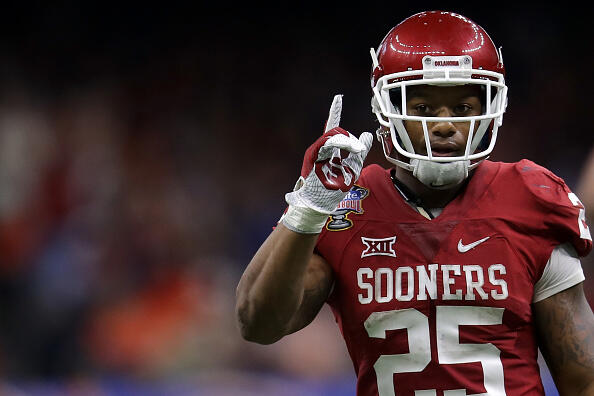 Joe Mixon. Photo: Getty Images
Scenario 2: Green Bay takes an offensive lineman (Ryan Ramczyk, Cam Robinson, or Forrest Lamp) at #29
On Wednesday, the Green Bay Packers signed guard Jahri Evans, so the possibility of them drafting an offensive lineman high is diminished.
It doesn't seem that the Packers are poised to select a top tackle in this year's draft, but could select a player like Ramczyk with intentions on moving him inside to guard to address an instant need. At the same time, selecting this year's near-consensus top interior lineman, Forrest Lamp doesn't appear likely either, considering that the team has let Josh Sitton and T.J. Lang walk in the past two offseasons.
If Green Bay does go offensive line, it means that they can target a position of depth--running back or corner--in the second round perhaps. Or, they could catch a sliding pass rusher or slot corner/hybrid safety with their late second-round pick. Running backs are going to be plentiful in the third and fourth rounds, so they can address the other glaring hole on offense with a bruising back like Samaje Perine or D'Onta Foreman that can carry the load in a double tight end set 20 times per game.
Scenario Plausibility: LOW. It doesn't seem like Green Bay will spend their first pick on the offensive line, especially an interior lineman. There are some very good, versatile players possibly available in the second or third rounds, when Isaac Asiata (guard with tackle experience) or Pat Elflein (Rimington Award winner at center with starting experience at right guard) are expected to come off the board. There will also be plenty of players available in the fourth and later rounds that have extensive college experience with major programs. Ryan Ramczyk. Photo: Wisconsin Badgers
Scenario 3: Green Bay takes a cover corner (Kevin King, Gareon Conley, Tre'Davious White, Marlon Humphrey, or Adoree' Jackson) at #29
It's pretty obvious that the Packers need help at corner--particularly, a playmaker who excels in coverage. It's a deep, deep corner class, so the Packers will have plenty of options to pick from in any case, but if a run on corners starts in the late first round, Green Bay may have to wait until a later round to find their guy, since their mantra of "best player available" would not apply if their favored corner(s) are off the board here.
But, if the Packers find their guy, like Gareon Conley, who was projected to go mid-first round but will probably slide due to a police investigation? It addresses their greatest concern defensively, allowing them to go just about anywhere with their next pick. They could opt for a pass rusher, go to work on offense with a running back (particularly if Joe Mixon or Dalvin Cook are still around), or plug that hole on the offensive line. They could also double down on the secondary, picking up yet another defensive back, although that doesn't seem likely given the young players on the roster who earned experience in trial-by-fire last year.
Plausibility: MEDIUM. Given how deep this cornerback class is, they will be able to find help in the secondary with their second or third pick without a marked drop-off in talent. The upper-echelon cover corners will likely be gone by #29, so unless one of them lands in the Packers' lap, they'll probably address a need somewhere else.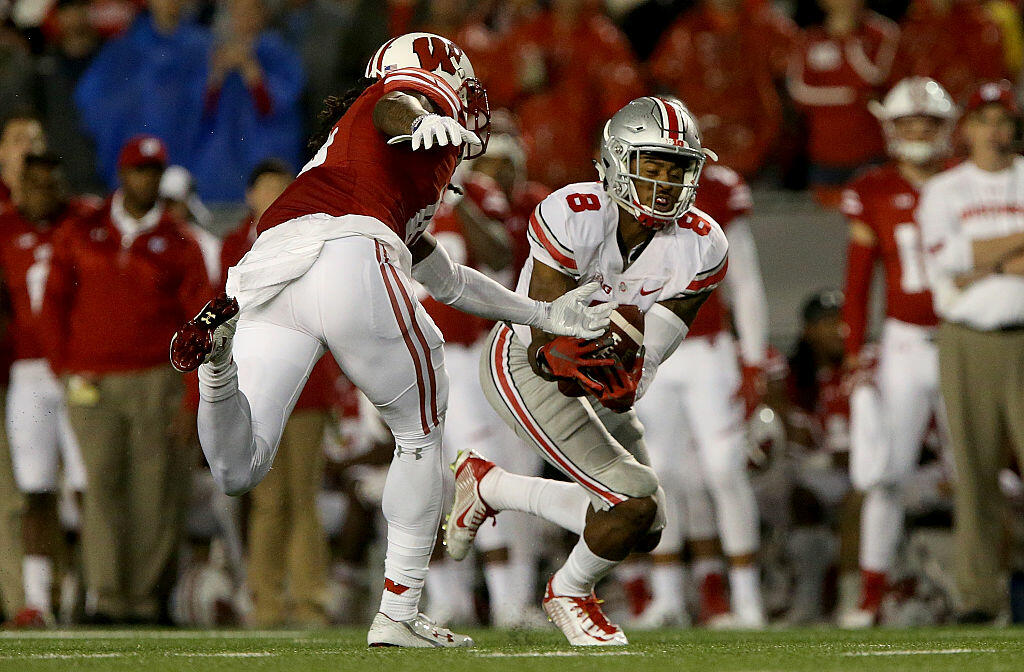 Gareon Conley. Photo: Getty Images
Scenario 4: Green Bay picks up a hybrid slot corner/safety (Jabrill Peppers or Chidobe Awuzie) at #29
While the Packers may have internal solutions in place to replace Micah Hyde (now in Buffalo), these two players possess a pretty unique skill set that a creative defensive coordinator would relish the chance at working with. Jabrill Peppers' stock is falling thanks to a diluted sample at the NFL Combine (and that he has no clear-cut position to compare to others with), but he is a freak athlete and would instantly have one of the highest ceilings of any Packers defender on the roster. Chidobe Awuzie, meanwhile, could really fill that LB/S hybrid role, and cover slot receivers in his spare time. Awuzie recorded nine sacks, six forced fumbles, three picks and three fumble recovers in college.
This is potentially the most interesting path that the Packers could take. Especially with Peppers, who would be an instant headline. As mentioned, deep cornerback and running back classes, coupled with interior lineman slotted currently in the second- to fourth-round range for the top prospects in this draft, means that the second and third round picks could go just about anywhere. Having added a defensive playmaker in either case, the Packers could snag a running back in the second round, especially if Joe Mixon or Dalvin Cook slide, or add a pass rusher or one of the top interior lineman to plug that hole at guard.
Plausibility: MEDIUM-HIGH. While it doesn't address a clear "position" of need, adding the playmaking of Peppers or Awuzie to the defensive backfield will add some interesting wrinkles to Green Bay's defense. It makes more sense if, say, the top corners and running backs are gone at this point, and no available pass rusher is worth taking at #29.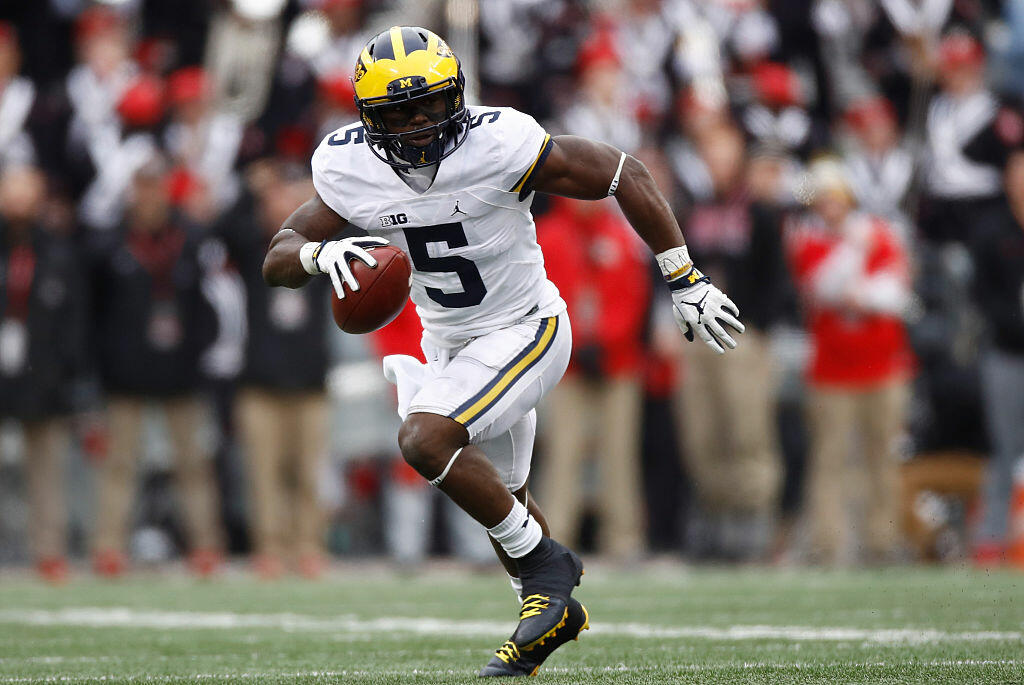 Jabrill Peppers. Photo: Getty Images
Scenario 5: Green Bay adds depth to the pass rush (T.J. Watt, Takkarist McKinley, Charles Harris, or Carl Lawson) at #29
After committing megabucks to Nick Perry, and the presence of Clay Matthews, Green Bay has invested plenty in their pass rush. So, at a premium position, it makes sense on paper to hedge their bets by picking up a top pass rusher with their first pick. T.J. Watt is an incredibly popular pick in mock drafts to the Packers, but there's a good chance he'll be gone by the time Green Bay is on the clock. However, if he (or another edge rusher that the Packers covet) is available, this pick sets the tone that Green Bay is absolutely looking to load up on defense.
Despite the offensive holes at running back and guard, Green Bay will still be seeking help in the defensive backfield. Plenty of corners will be around, and some that are projected for late first/early second round could slide to #61. Even with the pass rush addressed, linebacker could be on the board with one of their mid-draft picks. Or, as mentioned with the previous defensive picks, one of the running backs could be had in the second round. It seems though that if the Packers start with a pass rush pick, that they'd be addressing their secondary shortly thereafter, especially with so many solid corners projected to land in the top two rounds.
Plausibility: MEDIUM-LOW. I'm personally not convinced they will go here unless there's a player they absolutely love--taking the best player available. There are second- to fourth-round pass rushers to be had that can work as situational players (given that Green Bay already has Perry and Matthews in the fold), that can be developed into eventual starters, that might not be any more risky than taking one of the top pass rushers. The upper-end talent at this position will be selected in the first ten picks of this year's draft.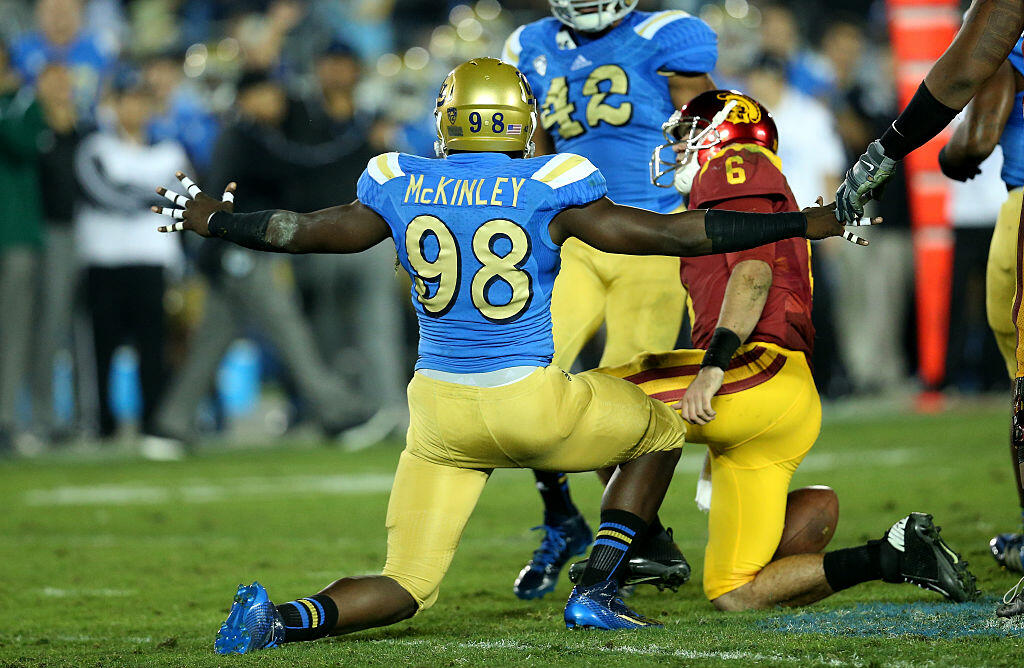 Takkarist McKinley. Photo: Getty Images
What's clear is that the Packers are in the heart of the deepest part of the NFL Draft at #29. They will have the ability to pick difference-makers with their first three or four picks, with some clear positions of need. Their needs largely match the depth of the draft this year, so even if they go simply by taking the best player on the board, they should still accomplish filling the holes they have on the team.
It'd be silly to think that the Packers are confined to the positions above--it is Ted Thompson, after all. Green Bay could take a quarterback in the second round and completely throw everyone off. However, given what they need and the depth at those positions, there's a solid chance this draft could play out where Green Bay adds multiple starters--players who will be on the field against Seattle in week one--later this week.
Tune in for our NFL Draft coverage this Thurday through Saturday on The Big 1070/The Big 920!
On Thursday and Friday, I will be in Green Bay with live coverage of the Packers' NFL Draft.